Updated:
Since SCCM 1802, inventory is included Windows 10 build version numbers. So this post is outdated now.
Additional Note:
Since I posted this, I got an excellent feedback from Mike Terrill @miketerrill , he asked me why not just use the registry property provider to inventory the UBR registry.
I guess I must admit that I didn't know I can do that. I am terribly learning modify mof file, always worry if I make a typo.
Here are some links about how to get registry to hardware inventory, thanks again to Mike:
https://miketerrill.net/2015/10/11/inventory-secure-boot-state-and-uefi-with-configmgr/
http://www.enhansoft.com/blog/how-to-use-regkeytomof
http://blog.coretech.dk/kea/how-to-get-registry-information-into-hardware-inventory/
http://it.peikkoluola.net/2013/06/20/extend-sccm-client-hardware-inventory-with-a-custom-attribute-value/
I think it might be easier do the inventory registry way. But here is how I do it in WMI way. 🙂
Because of WannaCrypt ransomware, I need to have a report about which Windows 10 has not installed March.2017 Windows Updates, unfortunately I couldn't run this report.
Why? Because this update is two months old, SCCM has already clean it up, so there is not reports.
I was thinking, ok, maybe I can query the OS build number, you know when you use winver, you can see there us updated OS build number after applied CU updates.
Example I have here OS build 14393.1198, means I have already installed May update. check details from here:
https://technet.microsoft.com/en-us/windows/release-info.aspx
https://support.microsoft.com/en-us/help/4000825/windows-10-windows-server-2016-update-history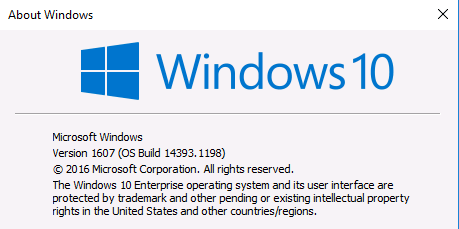 I couldn't find any reports or query shows this OS Build numbers in SCCM. I think it may not exist? I am not 100% sure.
Anyway, you can find this "1198" in registry: HKLM:\SOFTWARE\Microsoft\Windows NT\CurrentVersion, Name "UBR", it is a Dword.

So I use PowerShell create a new WMI class call PS_OSBuildDetails, and added three properties: CurrentBuild, UBR, OSBuildNumber, here is the result
note: I use PS_OSBuildDetails, because OSBuildDetails is kind of too common, I am worried if MS decides to use the name someday. 🙂

Then I use SCCM Default Client Setting policy, open up hardware inventory, connect to my machine, add this PS_OSBuildDetails as part of hardware inventory.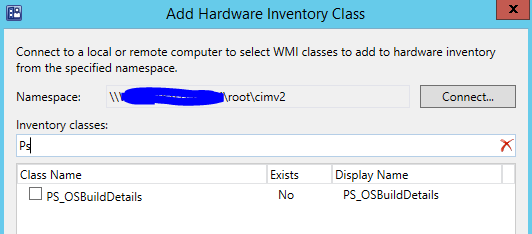 I deploy Configuration Baseline name "Get Windows 10 OS Build Number" to other machines, so that it creates this PS_OSBuildDetails WMI class.
Run this query, you will get a report of what OS build number of your Windows 10 version 1607 machines:
select SMS_R_System.NetbiosName, SMS_G_System_OPERATING_SYSTEM.BuildNumber, SMS_G_System_PS_OSBUILDDETAILS.OSBuildNumber, SMS_R_System.LastLogonUserName from  SMS_R_System inner join SMS_G_System_OPERATING_SYSTEM on SMS_G_System_OPERATING_SYSTEM.ResourceID = SMS_R_System.ResourceId inner join SMS_G_System_PS_OSBUILDDETAILS on SMS_G_System_PS_OSBUILDDETAILS.ResourceID = SMS_R_System.ResourceId where SMS_R_System.OperatingSystemNameandVersion like "%Microsoft Windows NT Workstation 10%" and SMS_G_System_OPERATING_SYSTEM.BuildNumber = "14393"

You can download the scripts and the exported CB from my OneDrive: Click here
(I use WMI modules from www.powershellDistrict.com , that's why the script looks a bit long, but I like that module 😀 )
Here is example how to use CI and CB to get Monitor Details, you will find in this post how to add those information to hardware inventory.
http://sccmshenanigans.blogspot.fi/2013/11/custom-wmi-classes-and-reporting-into.html
As always, use it as your own risk. 🙂