After integrated MDT to SCCM, you can create MDT TS in SCCM. End of the TS, there is "OSD Results and Branding", it should be use with UDI wizard, you can see in "Options"–"Condition" has set "SkipWizard" is NO.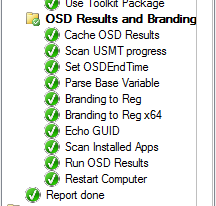 But I don't want to UDI wizard, because we want "zero-touch", or we already have our own wizard. What ever reasons they are…So I deleted those conditions. End of the deployment TS, OSDResults show up nicely. BUT, "Applications installed" is empty.
So where does OSDResults.exe get those information from? From registry.
HKLM\SOFTWARE\Microsoft\MPSD\OSD
TsApplicationBaseVariable
Default value is COALESCEDAPPS
You can change this value what every you like, but please don't put space between the words. 🙂

COALESCEDAPPS
This need to be as same as the value of TsApplicationBaseVariable. Add numbers after that for each of your applications. Example:

InstalledApps

This is a REG_MULT_SZ key, add your application name and status in it. 1 is succeeded, 0 is unknown. Example:

Now, when you run the OSDResults.exe again, you will get this:
Now you can use these information, find your way to add those registries and make your OSDResults look pretty without UDI Wizard (Install Application).
Or you can continue read my SCCM OSD: Tweak OSDResults without UDI (Part 2)